General Policy
We're in the business to provide the best driver's education in the city of Fall River and we're relentless in our pursuit.  To provide the best driver's education experience we're committed to be transparent in every aspect of the business. We're always here to help but sometimes it can be very difficult to get a hold of us.  State law doesn't allow us to make/take phone calls in the car while providing driving lesson cause lets face it, they're student driver! The best way to get in touch with us is email, text message, or voicemail.

Our main service region is the city of Fall River but we also service limited areas of surrounding communities.  Surrounding communities we service includes Swansea, Somerset, and Westport.  In order to maintain a high level of quality, we have to limit our service area to ensure that each student spends most of the driving lesson on practicing maneuvers rather than travel time to pick up the next student. Click on the image below to see our service areas and if you have any questions, please don't hesitate to contact our school.
North of Rt 177 in Westport MA
South of Main St in Somerset MA
West of Reed Rd in Dartmouth MA
East of Rt 136 in Swansea MA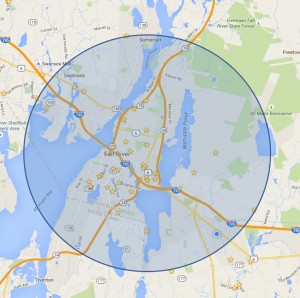 Driver's Education Certificate Processing
Once you've completed the entire driver's education program, we will process the driver's education certificate with the RMV in Boston.  Certificates are processed on Thursdays of each week with no exceptions.  For example, if you completed the driver's education program on a Saturday we will then process your certificate on the upcoming Thursday. In order for us to process your certificate, you must complete the driver's education program which includes the following components:

30 hours of Classroom instruction
12 hours of behind the wheel training and 6 hours of observation
A 2-hour parent class (for students under the age of 18)
Road Lesson Policy
We reserve the right to deny service to individuals who are in a rush to complete the required 12-hours of on-road lessons. The RMV states that you must hold a learner's permit with a clean driving record for 6 months before you're eligible for a road test. That means you have 6 months to complete all 12-hours of behind the wheel training and 6 hours of observation. Don't wait to the last minute and try to cram in all of your lessons in a month, spread them out and absorb all of the information taught on each lesson. We have 2 different instructors that provide lessons 6 days a week so we can accommodate your busy schedule. We want to provide the best driver's education experience and we can't do that when we're in a rush. If you're in a rush to get your license and just want to get lessons done, there's plenty of other driving school in the area. We hate rushing and you should too.

Cancellation Policy
What you see is what you get here at Flint Driving School. Prices are clearly stated so there's no guessing games and there's absolutely no hidden charges or weird fees at our school. A valid learner's permit is required on your driving lesson.  If you do not have your permit, we can not provide the driving lesson and you will be charge a cancellation fee.
We do however enforce a $30 cancellation/no show fee for every missed 1-hour appointment. The fee for cancellation/no show for every missed 2-hour appointment is $40. Kindly give us more than 48 hour notice if you can not keep your appointment to avoid the cancellation/no show fee. Cancellation request must be made via email with the date and time you would like to cancel.
Refund Policy
Bought one of our packages but can't stand how funny Pat is in the car? Moving to zimbabwe? Did you decided to wait and get your license when you turn 47?  No worries, just send us a note and we'll get someone to process your refund no questions ask. Life's too short not to be happy so we'll get you squared away without any problems. Refunds are only given for unused portion of the package that you purchase within a 2 year period.
Driver's Education Certificate Policy
Took a parent class 4 years and 11 months ago and trying to save yourself from spending another 2 hours with us? Took the classroom portion of the driver's education program with our school but want to drive somewhere else? No problem, drop us a note and we'll have someone process your certificate.   Please keep in mind the parent class certificate is only valid for 5 years and the classroom certificate is only valid for 2 years (there are no exceptions).  When requesting a certificate, please provide the following information:
Name of student
Permit Number